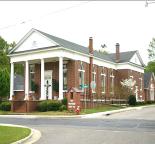 Who We Are
We are Reformed (Calvinist), Evangelical church of over two hundred members located in Ellerbe, North Carolina, ten miles from Rockingham, NC on highway 220 . Since 1924, we have been worshiping at 133 W. Ballard Street in Ellerbe, across the street from Ellerbe Junior High School.
Our congregation has a long history, having been established in 1803 as Harmony Presbyterian Church. We continued as Harmony Presbyterian Church until 1888 when our name was changed to Ellerbe Springs Presbyterian Church. In 1963 we adopted our current name, First Presbyterian Church in Ellerbe, NC.
Our history as a congregation in the Presbyterian Church in American began in 1985 when our church withdrew from the PCUSA and became a member of Central Carolina Presbytery of the Presbyterian Church in America.
Today we are a growing church with members of all ages who are committed to the inspired and infallible Word of God. We emphasize our Reformed Theology as formulated in the Westminister Confession of Faith and the Larger and Shorter Catechisms. We also emphasize the great Commission by encouraging our members to share the good news of Jesus Christ with all those in their circle of influence.
If you are looking for a church home, we invite you to worship with us and to labor with us as we use our gifts and talents in the service of our Lord Jesus Christ.
Sunday Services: 
             Sunday School:  10:00 am
             Worship Services: 11:00 am
               Youth: 6 pm
 Wednesday night Prayer Meeting: 6:00 pm